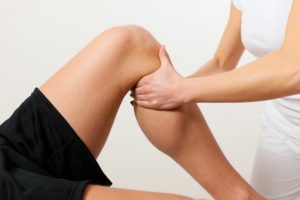 At New Victoria Physiotherapy we have excellent experience with both chronic and acute knee problems. These injuries can be a very frustrating source of pain, and can limit our return to full activities for some time without effective management.
What should I expect in my first appointment?
At New Victoria Physiotherapy, an initial assessment for your knee will take approximately 45 minutes. On arrival, you will be asked to complete a few forms giving consent for physiotherapy treatment, and to confirm your details.
The initial assessment would begin by taking a full history to ensure that we can accurately rule out any serious conditions, and allow us to understand fully the nature of your complaint. Common questions will be regarding the initial onset, aggravating and easing factors, and the pattern of your symptoms. We will also enquire about any previous injuries, past medical history, medications and a social history.
Following this, a physical examination will take place. This will include:
Observation of your walking pattern and biomechanics
Assessment of range of movement
Assessment of power
Special Tests to help with diagnosis
Examples of Knee Conditions Treated:
Osteoarthritis
Acute Injuries
Ligament Pathologies
Meniscal Pathologies
Post-Operative Rehabilitation
Patellofemoral Syndrome/Anterior Knee Pain
ITB Syndrome
There are a lot of conditions that can affect the knee, and our physiotherapists are well equipped with them all. Should we feel your condition requires further investigation or treatment, we are lucky enough to have specialist consultants nearby as part of New Victoria Hospital.
Enquire Now