What Is Hand Therapy?
Hand therapy involves the treatment of upper limb disorders which includes the shoulder, elbow, wrist, hand and fingers.
Specialist hand therapists are very experienced in treating these conditions and combine a range of skills. These include from an occupational therapy background such as scar management, splinting, and advice on activities of daily living. Skills also include from a physiotherapy background such as exercises, joint mobilisations and other manual techniques.
See our available treatments section for more details on the hand therapy treatments available by our hand therapy specialist as well as our other physiotherapists.
What Types Of Conditions Are Treated By Hand Therapy?
Hand therapy treats a wide scope of conditions. These include but are not limited to:
Carpal Tunnel Syndrome
Peripheral Nerve Conditions
Tenosynovitis
Tendon Injuries
Rheumatoid & Osteoarthritis
Congenital Abnormalities
Burns & Scars
Sporting & Work Related Injuries
Hand & Wrist Fractures
Chronic Hand Conditions
If you are unsure if your condition is covered by hand therapy, please contact our New Victoria Physio team to discuss this further.
What Will I Need To Bring To My Hand Therapy Appointment?
During your initial assessment you will be asked many questions regarding your condition and symptoms. Any correspondence, imaging reports or details that you feel may be useful for your should be brought with you.
Any splints or equipment that you are currently using should be brought with you to be inspected by your hand therapist.
During your examination, it will be necessary to expose relevant areas. You should therefore wear appropriate clothing.
Available Treatments Under Hand Therapy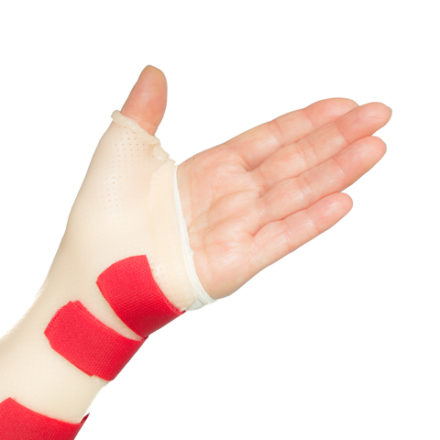 What Does Splinting Involve? Splinting involves the creation of a custom-made orthotic device to help with the healing and rehabilitation of your injured hand. There are many types of splints that can be used for various...
If you would like more information regarding our hand therapy treatments, enquire now using the button above or call New Victoria Physiotherapy on 0208 949 9040.