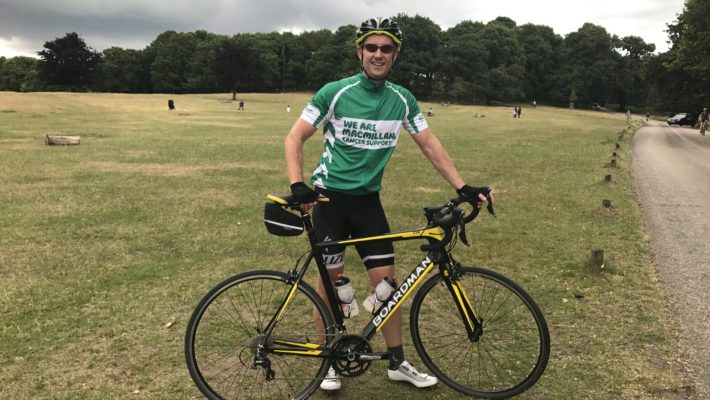 Tom Takes On The London Prudential100
Prudential RideLondon Surrey-100 is a gruelling challenge whereby entrants push their abilities to the limit through a 100 mile cycle ride around the landscapes of Surrey. Some of the toughest cyclists from across the UK & the rest of the world will be attempting to complete the mammoth task, and New Victoria Physiotherapy's very own Tom Stukins will be camouflaging himself amongst them.
On questioning Tom through his decision making process he had this to say:
I chose to take part in the Prudential 100 as a personal challenge as well as an opportunity to raise funds and awareness for a charity that has helped my family and friends on more occasions than I would have liked, MacMillan Cancer Support. I have always been relatively fit and active and as many of you will know, ride my bike to work most days. But I have never enjoyed more endurance based exercise so I thought that riding 100 miles in one go was a good starting point!
MacMillan Cancer Support is a fantastic charity and Tom has been training hard in order to do them proud. With the race fast approaching, taking place on the 30th July 2017, Tom is keen for as many donations as possible to help motivate himself through. Contributions can be made towards his Just Giving Page here:
Just Giving – Tom Stukins Prudential Ride London
Everyone here at the department wishes Tom the best of luck, and he had this message to say:
Thank you from me but most of all Macmilan cancer support
Tom Stukins